What is a flexible meal plan? For me, it started as a list of dinners in which I already had the ingredients for in the house. I would assign a dinner to a night of the week. When that day came, I would already know what I was going to make, I just had to make it! Over time, I've learned some ways to save myself some time, money, and most importantly, frustration.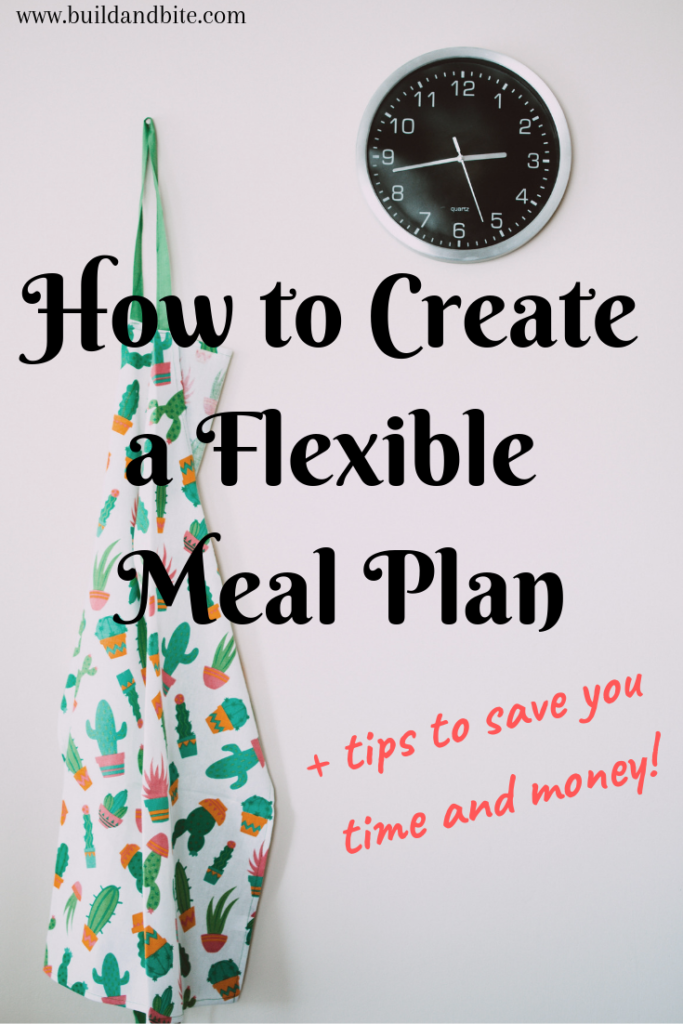 How will a Meal Plan help?
A meal plan is exactly what it sounds like. It's a plan (written or electronic!) of the meals you and your family will eat. I keep mine flexible by no longer assigning specific days to meals. Instead, I keep a list of meals that we can choose from the morning of or the night before. This is the "flexible" part of a flexible meal plan. I plan out two weeks at a time, but you could do a longer or shorter time. Keep in mind this is different from meal prepping, which I'll also discuss.
Before I started writing out my meal plans, I was overwhelmed with cooking. We were frequently eating pizzas, chicken nuggets, and whatever else was easiest to make. A meal plan keeps you away from the last-minute dread of having to decide on dinner and then double-checking to make sure you have the ingredients. Instead, you do this all at once!
I work through dinner time a couple of nights a week, which is why this method works so well for us. When I'm working, I will go back to putting specific meals for those days. Usually, I put something that I can make in the slow cooker or something super easy that my S.O. can start before I get home.
How I Make My Flexible Meal Plan
I keep two separate lists for meal planning: main dishes and sides. I do this because it makes it easier to mix and match meals if we change our minds, or if my S.O. doesn't like the side I have planned. The side dishes we have most often are (instant) mashed potatoes, sauteed zucchini, mushrooms, and onions in garlic, and knorr's sides (the chicken flavored noodles are my favorite!)
Your meal plan will also double as a guide to what you have in your pantry/fridge. This is why I write down EVERYTHING for the meal even if there is no prep to be done. If I'm planning out two weeks of meals, there's usually a frozen pizza written on there. If we're having a rough week and I'm planning on having two pizzas, then I write it on there twice!
I do my best to make my meal plan and my grocery list at the same time. I go through my freezer, refrigerator, and pantry to see what I can make with what I already have. There are usually a couple of chicken meals prepped in the freezer. Chicken tacos are always on the list because they're so easy to prep beforehand. You can see how I do those in 3 Chicken Freezer Meals in 20 Minutes.
Save Time & Money with Meal Plans
Saves you money by lessening the change of ordering out!
Saves you time (and brainpower) by already having the first step done: deciding what to eat!
Save you both time and money by making sure you have everything you need for the meals you want to make.
Have you ever started making a meal and then realized you don't have one very important ingredient? I started making a buffalo chicken pizza once, before realizing I only had a little bit of cheese! I made it work, but it was a learning experience.
The main goal of making a flexible meal plan is to make yourself a "guide" for your meals. It should include the meals you're going to make and all the ingredients needed to make them. My meal plans usually look something like this: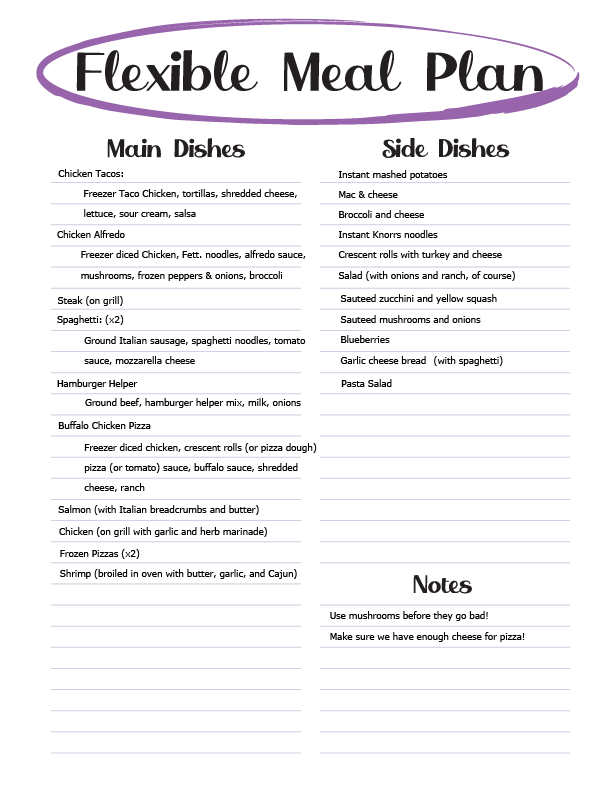 Meal Prepping: What's the difference?
Some people get "meal prepping" and "meal plans" mixed up. They are very similar, but not the same. A meal plan is just what it sounds like: a plan. Above you'll see my version of a meal plan. This is the decision making part of the meal. Meal prepping is the action part of the meal plan. Meal prepping is when you prepare part of the meals ahead of time. Some examples are cutting up vegetables or meat ahead of time. Here are some tips for meal prepping:
Chicken
I always (yes, always) prep our chicken ahead of time. I do this the day that we go grocery shopping, before putting the chicken in the freezer. Cut the chicken exactly how you want to eat it. First, I cut the fat off of every chicken breast. Then, I take a couple of breasts and freeze them whole individually. Sometimes I'll add the marinade before freezing as well. These are used for grilling. I also make sure that at least half of the chicken breasts are cut up in small pieces before freezing. These are used for tacos, pasta dishes, and stir-fry. I use these the most!
Vegetables
When prepping vegetables, you have to be careful! Vegetables go bad faster once they are cut.
I try my best to keep some onions chopped up in the fridge at all times! We use them in almost every meal and on top of salads. I keep these in Ziploc bags, small Tupperware containers, or even glass jars.
Cutting up our own heads of lettuce has saved us a ton of money compared to buying the pre-made salad bags! My S.O. has this crazy obsession with eating salads that I just can't seem to understand. There are worse addictions to have, so I'm not complaining! Here's my tip for making cut lettuce last: paper towels. To make it last, fold up two paper towels and put one on the bottom on the container, add the lettuce, and put the other paper towel on top. This soaks up the excess moisture from the lettuce and it will last for WEEKS. Since finding this tip, I haven't thrown away any lettuce!
Meal Plan Freebies!
Below you can click to download the PDF version of my free printable Flexible Meal Plan! It's blank so you can add your own meal ideas! It works best if you print then handwrite, but you can also type onto it for free, like I did, using this link.
What are your favorite tips for meal planning? Do you meal prep too? I'd love to hear about your experiences! Let me know in the comments.